First Team - SuperMount 46 Victory Wall Mounted System
Product Code:

sm_46_victory

Availability:

In Stock
The SuperMount46 simplifies the task of installing a top quality wall-mounted basketball structure. Never before has it been so simple to purchase and install a commercial quality wall-mounted basketball system. With First team's SuperMount46 there is no need to calculate exact extension requirements before ordering. The SuperMount46 is specifically designed to provide wall-to-backboard extension distances anywhere from 4' - 6' during installation.
This allows the unit to be "fine-tuned" to match the court markings on the floor. You will avoid costly rework and field modifications commonly cause by measurement errors. Additionally, the SuperMount46 Wall Mounted Basketball Hoop is so versatile it can be configured to match up to any basketball backboard. So no matter what basketball backboard you prefer, you know the SuperMount46 Wall Mount is compatible.
Select from First Team's broad array of package configurations to satisfy the needs of your facility. Remember, for additional safety, First Team offers optional bolt-on padding for most SuperMount46 packages. Every SuperMount46 Wall Mount Basketball Goal System comes with a Lifetime Limited Warranty.
Specifications:
FT2000 SuperMount 46 System
FT234 42" x 72" Glass Backboard
FT190 Competition Breakaway Goal
Approx. Shipping Weight: 493 lbs
Written Specifications
Assembly Instructions
Institutional Wall Mounted Basketball Goals
There are many reasons why you might want to choose to purchase a basketball wall mounted hoop. One of the biggest reasons that come to mind is the limited amount of space you might have at your residence or institution. Like any basketball goal, proper selection of a wall mounted basketball hoop is going to be based on who will be playing on it, and how much money you have to spend.
We understand that a budget dictates what you can afford to buy, which is why we carry a wide variety of top-name brands that are priced right for all budgets and levels of play. Most people don't have the time, manpower, and other resources to dig up their yard to install an inground basketball system. Others may choose mountable basketball hoops because they tend to be more stable if mounted correctly buy a contractor, or even a handyman.

With a wide variety of quality wall mount basketball hoops on the market, the most popular ones are the wall mounted adjustable basketball goals. Wall mounted adjustable basketball goals, which means they can be manually adjusted up or down to a specific height measurement. This feature makes it suitable to adjust the adjustable wall mounted basketball hoop down to a height for youth and beginner players to use, so they don't get discourage to play, and develop their shot making skills.

As mentioned before, wall mounted adjustable basketball goals add stability and flexibility to your game. Wall mounted basketball hoops can be mounted outdoors as well as indoor use. One of the most convenience things about a wall-mounted system, they can be used as roof mounted basketball goals, or even garage mount basketball backboard system. Garage mount basketball hoops are a great way to make use of your driveway, and parking area. Adjustable basketball hoop garage mounted systems can be hard to install, so please consult with a professional installer for assistance. A roof mount basketball goal can be just as challenging or if not more difficult to install.

We sell wall mounted basketball hoop in a variety of sizes and specific common materials. Most wall mounted hoops are manufacturer with tempered glass, aluminum with powder coated base, steel with powder coated base, molded fiberglass and acrylic fiber. While tempered glass is usually reserved for an institutional or professional environment, you can still purchase glass backboard systems for residential use. Now selecting steel, fiberglass and acrylic have been proven to be the most popular choice for your wall mounted system. Backboard sizes can be purchased from 48" wide, and up to the regulation size of 72" wide.

No matter what your reason is for choosing a wall mounted basketball system, you can rest assure, here at BasketballHoopsOnline.com, we have, or our factory trained staff, can find you the perfect wall mount basketball goal for any situation!

Featured Wall Mounted Basketball Goal
Institutional wall mounted basketball goals are a great choice for areas where space is limited, or where ceiling mounted or portable goals are not practical. A wall mounted basketball goals consist of the mounting framework, backboard and a rim. They can usually be mounted to a wall, as a standard installation, or manufacturers sell Side-Fold, and Swing-Up systems. These types of systems are mounted with specially designed extension arms and brackets. Since they are being mounted directly to an existing wall, the new wall mount basketball goals do not take up additional space.
For a stationary mounted installation, the First Team SuperMount 46 is an excellent choice. This basketball system is designed to give you a wall to backboard distance of 4 to 6 feet. You can adjust the distance as needed once you are installing the system. Since you have a two feet area to work with, it is easy to install even for a novice. The SuperMount 46 also comes in a variety of packages so you can get the backboard and goal you want.
Maybe you have a space to work with when your facility requires that the basketball goals be folded against the wall to make room for volleyball or other activities, call on First Team's FoldaMount 46 series. The unit swings left or right for storage close to the wall without tools or ladders! Ordering is simple; simply choose the FolaMount46 Wall Mount Basketball Hoop package that best suits your needs and budget.
Gared Sports sells a great Swing-Up system where the system easily swings against wall away from other court activities. Four point backstop rigidly locks into playing position with telescoping slide pipes featuring locking collars constructed with mechanical tubing unitized with adjustable tension rods.
When purchasing any of wall mounted systems, you have to decide what backboard and rim fits the level of play, as well as your budget. Backboards are made with acrylic, steel, fiberglass, or tempered glass. The rims are designed to Flex or Breakaway to discourage players from hanging on the rim. Standard Fixed goals are still made, but they are not as popular and typically not recommended for an institutional environment.
Assembly Instructions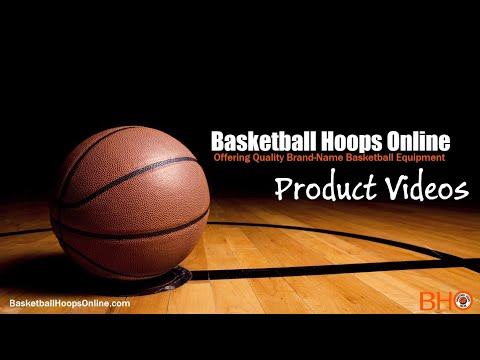 First Team - SuperMount46™ Wall Mount Basketball Goal
on 09/23/2018
SuperMount46™ Wall Mount Basketball GoalFeatures:Dense Southern yellow pineSafety chainsSolid square tubing construction with black powdercoat finishExtensive backboard selection available in glass, steel, fiberglass or clear acrylic ranging in size from 36" x 60" to 48" x 72"Optional bolt-on TuffGuard backboard paddingBreakaway rimsWall to backboard extension variable from 48" to 72"The SuperMount46 simplifies the task of installing a top quality wall-mounted basketball structure. Never before has it been so simple to purchase and install a commercial quality wall-mounted basketball system. With First team's SuperMount46 there is no need to calculate exact extension requirements before ...
View more
View all