First Team - Challenger Select
Product Code:

chall_select

Availability:

In Stock
First Team proudly announces our latest addition to the PowerHouse line of hoops....Challenger Adjustable Basketball Goal! The PowerHouse Challenger pole system boasts all the features you need for great performance at a price everyone can enjoy! The PowerHouse Challenger Adjustable Basketball Hoop series is designed with performance and economy in mind. The unit is built with a 5" x 5" vertical post that incorporates our bolt-down anchor base for ease of assembly and relocation.
The rim height is infinitely adjustable by simply turning the EZ-Crank handle. The rim height indicator registers the 10' rim height. Our Y-shaped extension arms provide a solid 30" offset from post to backboard. Choose from tempered glass or acrylic backboards available in 54" and 60" widths. For additional safety, pole padding and backboard padding can be added to any Challenger package.
PowerHouse Challenger Adjustable Basketball Goal packages are covered by First Team's Limited Lifetime Warranty. When you're looking for a great performing adjustable basketball system for your home court, look no further than Challenger!
Specifications:
PH05CH Challenger Pole System
FT220 36" x 60" Acrylic Backboard
FT186 Heavy Duty Flex Goal
Limited Lifetime Warranty
Approx. Shipping Weight: 210 lbs
Welcome to Basketball Hoops Online where we are constantly refining our inventory to make available the latest and best systems to you. You may have noticed searching the web for basketball systems that there is a lot to choose from. Some sites have them all! We are not just an on-line store that sells just anything our vendors offer. Inground basketball hoops are hoops that are installed into the ground to create a permanent basketball system. They are designed for outdoor use and can be used for recreational play or institutional play.
Depending on what you buy, most inground systems hold up well in adverse weather conditions, and we even offer Hoop Hood Covers to help preserve your investment. Inground hoops give you the stability and durability needed for many different types of players and skill levels. If you have more space that can be used solely for basketball, you can install your inground goal in the back yard as part of a concrete area you can use as your court. This will allow you to play in an area that is just for basketball. We are one of the best Basketball Systems installation company and we know every bolt and screw on our systems and they were chosen because they are better then another.
If two systems are equal in quality but not price, why offer the more expensive one? Ask one of those sites that have pages and pages of systems that all look the same which is the best for the money. You probably already know where you plan on putting your basketball system but just so you know Residential systems are typically not built to the same standard and Institutional ones. Residential systems are typically less expensive and many come with long warranties but the warranty only applies if the system is used in the environment it is designed for. Institutional systems are built more rugged and are designed for many hours of play, every day.
Basketball Hoops Online has been selling and installing high quality basketball goal systems since 2002. We are committed to providing outstanding customer service and making your shopping experiences a pleasant one. We will always strive to offer only the best basketball goals. Our sales staff is knowledgeable and friendly and always ready to answer any of your questions about our inground basketball goals and our portable basketball hoops. We sell inground basketball goals, portable basketball goals, basketball goal accessories and even institutional basketball goals.
ADJUSTABLE HEIGHT INGROUND BASKETBALL SYSTEMS
Adjustable inground basketball hoops are a great choice for either recreational or institutional hoops. They bring to the player versatility and the confidence needed to make the shot. Little kids no longer have to stand before a 10 foot hoop throwing the ball with all their might hoping to make the shot. Adjustable inground basketball systems give players the opportunity to play at their skill level. As skills increase so can the size of the hoop. Adjustable basketball hoops for recreational home use are perfect for growing families. Most models can be adjusted from 6 feet to 10 feet increments. This allows everyone in the family to have a chance to play. Some models come with a crank that allows you to adjust while others have a motorized option. Either way, adjusting the system is easy and can be done quickly even between games.
FIXED HEIGHT INGROUND BASKETBALL SYSTEMS
If your home court play is expected to be exclusively at the official 10' height, a fixed height system provides competition-like playability and rigidity not possible on adjustable height systems. Basketball Fixed inground basketball systems are available with 4", 5" or 6" square poles with Safe Play Areas under the basket as deep as 60". When looking for gymnasium-quality equipment for your driveway, Bison, First Team, and Spalding fixed height systems will exceed your expectations. Fixed-height basketball systems are perfect for those that don't require an adjustable basketball system and would like to save some money on a simpler design. Fixed-height basketball goals usually cost less than it's counterpart of the adjustable basketball hoops because there is no moving parts, less metal parts, which reduces the price of steel materials used to manufacturer a fixed height inground basketball system.
Assembly Instructions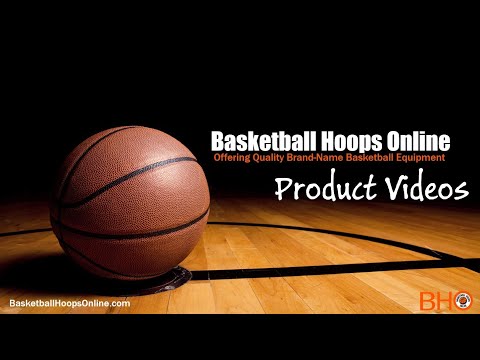 First Team - PowerHouse™ Challenger In Ground Adjustable Basketball Goal
on 09/22/2018
PowerHouse™ Challenger In Ground Adjustable Basketball GoalFeatures:Backboards available in acrylic or tempered glassBreakaway goalOptional bolt-on TuffGuard backboard padding available in several colorsOptional all-weather Velcro wrap-around post paddingEZ Crank adjustment allows infinite height adjustment from 10' to 7.5'Baseplate to backboard extension is 30" with rim at 10'First Team proudly announces our latest addition to the PowerHouse line of hoops....Challenger Adjustable Basketball Goal! The PowerHouse Challenger pole system boasts all the features you need for great performance at a price everyone can enjoy! The PowerHouse Challenger Adjustable Basketball Hoop series is design...
View more
View all