Bison - T-REX 66 Side Court Portable
Bison"s Side Court Portable Basketball System is made for courts with space constraints that don"t allow a full 96-inch extension. This durable adjustable hoop gives your team an official-size unbreakable glass backboard and the features of a more expensive portable basketball system – all at a price that won"t break your budget. The steel breakaway goal stands up to heavy play and thick padding around the base protects your players from injuries. A factory-installed ballast keeps your hoop stable and prevents tipping. Lightweight enough for one person to set up, fold down and move to storage, this portable system rolls smoothly on eight-inch wheels that won"t damage your floor. Choose from four popular padding colors.
Specifications:
Backboard Style: Unbreakable glass backboard
Backboard Size: 72" W x 42" H
Setback: 12" – 66" (depending on play height)
Play Height: 7" – 10" (adjustable)
Other Info: Includes 2"-thick urethane foam padding for both the base and underside of the backboard
Storage Dimensions: 76" W x 130" L x 78" H
Available Options: Pad Color: Black, Maroon, Royal, Scarlet
Weight: 2100.0 lbs Shipping Method: Freight
Portable basketball goals can be a head scratcher at times. You want something that is easy to move and transport, as well as a unit that can be folded up when it's not used. On top of all that, and depending on the level of play, you want something stable, durable, and one that won't easily be tip over. You just have to analyze your needs and wants, and be ready to compromise unless you have a lot of money, space, and manpower.
Portable basketball systems can be rated from Youth to Beginners, Residential to Institutional, up to Professional level of play. Whatever your situation may be, you want a system that is easy to set up, safe, and a unit that matches your level of play. Ultimately, two of the most deciding factors are economics and the amount of playing space you have.
Most players either wish they can slam-dunk, or they already can. Slam dunking can be fun, and rewarding, but it also poses a safety issue if you don't have the correct type of system, and the right amount of ballast weight installed in the base of the portable system. Simply spoken, without the correct amount of counterbalance weight, the unit can tip over, and possibly fall on top of a player. Please do not compromise on the cost to make your unit safe for all age groups!
When choosing your portable basketball hoop you need to consider the function and strength. You want something built to high standards that can withstand rough play. You also want something that is not going to be cumbersome to move. You want a portable system that is equipped with a caster wheel system that makes it easy to tote your system from storage to the playing area. Most portable basketball systems can be moved by one or two persons.
Most portable systems are adjustable for two main reasons; one popular reason is for players of all ages, and heights to play with the portable hoop. Another main reason is for storage purposes. With this feature, the system can be folded down, and collapsed into a compact position which is ideal for transporting. Remember, purchase a portable basketball hoops that is durable and one that is safe. There are many to choice from, but that is why we created this website, to help make your buying process a little easier.
YOUTH TO BEGINNER LEVEL - PORTABLE BASKETBALL SYSTEMS
Designed for young players and/or any beginner that wants to try their hand in the game of basketball. Most of these portable systems are inexpensive, that way not a lot of money is tied up in a basketball system if they lose interest.
RESIDENTIAL TO INSTITUTIONAL LEVEL - PORTABLE BASKETBALL SYSTEMS
Designed for adults and/or advanced players who need a system to meet and exceed their demands and skill set. This baskeball portable system can be used as a top-quality residential system, or placed in a church or recreational center
UNIVERSITY TO PROFESSIONAL LEVEL - PORTABLE BASKETBALL SYSTEMS
Designed for a series level of competition. Must be official and regulation size systems. You can find these types of portable basketball systems in College and NBA arenas.
Owner's Manual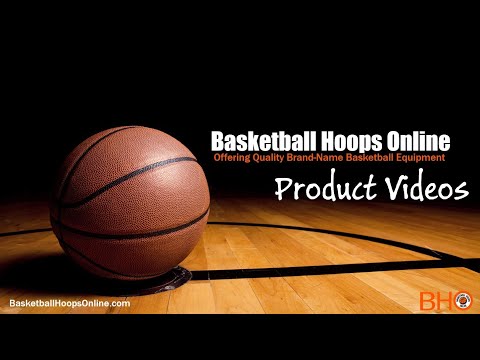 Bison - T-REX® Side Court Portable Basketball System
on 10/08/2018
T-REX® Side Court Portable Basketball SystemBison now offers a T-Rex portable basketball system for every level of play from elite level international to High School and recreational play.  All T-Rex portables, feature industry leading extension spring counterbalance technology, making raising, lowering and storage simple, safe and fast. All pivot locations operate freely on zero maintenance, self-lubricating bearings and chrome plated steel pivot axels.  Weight ballast is hidden from sight in a covered weight containment cell. Narrow profile uprights reduce visual interference for fans or media behind the base.  Floor friendly 8" x 2" wide casters in a variety of configurations ...
View more
View all