Bison - PKG275 QwikChange
Acrylic Shooting Station The look of a professional court at a budget price! Official-size goal raises and lowers with ease on this system that features a 32" x 48" clear rectangular backboard. Direct mount goal design protects backboard during slam-dunk action. No ladders or tools needed to change the goal height. The 7 1/2' to 10' goal height adjusts from the playing surface in 6" increments. Entire system mounts easily to the wall with two load spreading struts. Customer supplies suitable wall mounting hardware. There's a 22" safe play area at 10'. One-year limited warranty. Shipping Weight: 105#;
Specifications:
BACKBOARD: 48" X 32" in your choice of 3/8" Clear Acrylic or 3/8" Smoked Acrylic (select above). The backboard has a warranty against breakage during dunking because the rim is bolted directly to the pole system and not to the backboard. You don't have to worry if someone hangs on the rim.
ADJUSTABLE ARM: QwikChange adjustable extension arm with 22" of extension from the wall. The hoop is easily adjusted from the front using Bison's time proven QwikChange adjustment mechanism. This spring-assisted adjustment system is built to last and will never fail. Adjusts from 7 1/2' to 10' in 6" increments. The arm can be mounted to most wall types using 2 load spreading struts. The struts are included. Please call us if you have any mounting questions!
BREAKAWAY RIM: NBA style breakaway goal with hand welded metal net ties, no plastic net clips on this rim.
Residential wall mounted basketball goals are a great choice for areas where space is limited, or where portable goals are not practical. A wall mounted basketball goals consist of the mounting framework, backboard and a rim.  They can usually be mounted to a wall, as a standard installation, or manufacturers sell stationary and adjustable systems. These types of systems are mounted with specially designed extension arms and brackets.  Since they are being mounted directly to an existing wall, the new wall mount basketball goals do not take up additional space.
For an area to allow backboard installations in tight spaces where playing area is at a premium, the PowerMount structure provides quick and easy installation of a basketball backboard on a wall with a minimal 12" of wall-to-backboard distance. Since you have a two feet area to work with, it is easy to install even for a novice.  When purchasing any of wall mounted systems, you have to decide what backboard and rim fits the level of play, as well as your budget. Backboards are made with acrylic, steel, fiberglass, or tempered glass.
There are many reasons why you might want to choose to purchase a basketball wall mounted hoop. One of the biggest reasons that come to mind is the limited amount of space you might have at your residence or institution. Like any basketball goal, proper selection of a wall mounted basketball hoop is going to be based on who will be playing on it, and how much money you have to spend.
We understand that a budget dictates what you can afford to buy, which is why we carry a wide variety of top-name brands that are priced right for all budgets and levels of play. Most people don't have the time, manpower, and other resources to dig up their yard to install an inground basketball system. Others may choose mountable basketball hoops because they tend to be more stable if mounted correctly buy a contractor, or even a handyman.

With a wide variety of quality wall mount basketball hoops on the market, the most popular ones are the wall mounted adjustable basketball goals. Wall mounted adjustable basketball goals, which means they can be manually adjusted up or down to a specific height measurement. This feature makes it suitable to adjust the adjustable wall mounted basketball hoop down to a height for youth and beginner players to use, so they don't get discourage to play, and develop their shot making skills.

As mentioned before, wall mounted adjustable basketball goals add stability and flexibility to your game. Wall mounted basketball hoops can be mounted outdoors as well as indoor use. One of the most convenience things about a wall-mounted system, they can be used as roof mounted basketball goals, or even garage mount basketball backboard system. Garage mount basketball hoops are a great way to make use of your driveway, and parking area. Adjustable basketball hoop garage mounted systems can be hard to install, so please consult with a professional installer for assistance. A roof mount basketball goal can be just as challenging or if not more difficult to install.

We sell wall mounted basketball hoop in a variety of sizes and specific common materials. Most wall mounted hoops are manufacturer with tempered glass, aluminum with powder coated base, steel with powder coated base, molded fiberglass and acrylic fiber. While tempered glass is usually reserved for an institutional or professional environment, you can still purchase glass backboard systems for residential use. Now selecting steel, fiberglass and acrylic have been proven to be the most popular choice for your wall mounted system. Backboard sizes can be purchased from 48" wide, and up to the regulation size of 72" wide.

No matter what your reason is for choosing a wall mounted basketball system, you can rest assure, here at BasketballHoopsOnline.com, we have, or our factory trained staff, can find you the perfect wall mount basketball goal for any situation!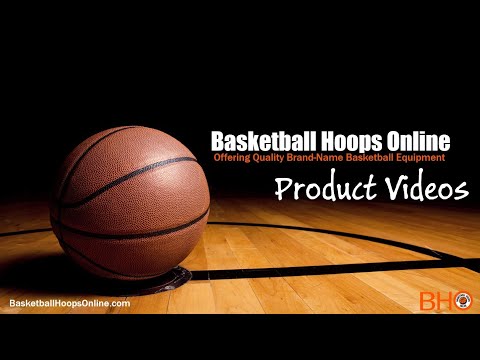 Bison - Qwik-Change Acrylic Basketball Shooting Station
on 10/09/2018
Bison Qwik-Change Acrylic Basketball Shooting Station These Wall-mounted Packages are Bison Shooting Stations that provide a wall mount basketball hoop solution to match any budget and level of need.  Prior to purchase, verify that your wall is suitable in construction, size and layout to support the package weight and stress from use.  When traditional competition wall structures are more than your facility requires, choose from fixed height or adjustable packages and select from a steel, glass, molded graphite or acrylic backboard.. For the look of a professional court at a budget price, choose the Bison Qwik-Change Shooting Station.…This system includes an heavy-duty flex goal, t...
View more
View all